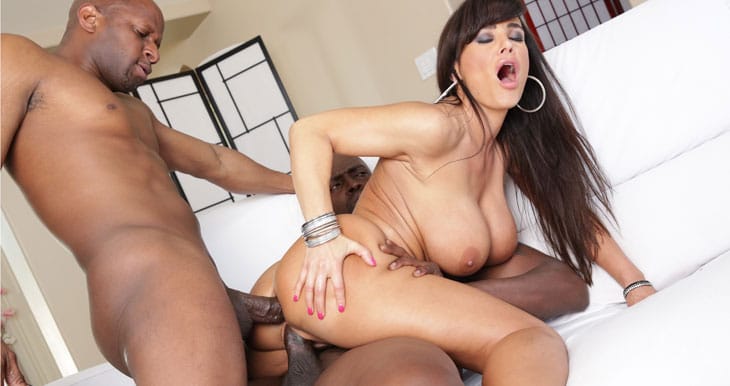 I'm a party girl and love a good night out on the town. Most weekends I can be found in my local nightclub, I love to dance and flirt.
One night, a few weeks ago, I was queuing to get in the club and started flirting with a couple of the bouncers. They were both hot, so when they invited me back to their flat later that night I couldn't refuse.
As soon as we got through the door they both started kissing me and removing my clothes. Mmmmm I watched as they stripped naked and my mouth almost fell open at the size of the two huge lengths of black cock before me.
I stood in between them both and began to stroke both cocks, one hand on each. They were so thick, so hard. I fell to my knees and took turns filling my mouth which each hard length. 'That's it, suck it you filthy girl' said one. 'I want your arse' said the other, I gave the cock in my mouth one last lingering suck and obediently turned onto my hands and knees.
I felt cold lube against my tight hole followed soon after by the burning, stretching sensation of my arse being filled with fat black cock. The other guy came around to my mouth and said 'Make my cock wet' I did as I was told, mmmmhhhhh how I love a mouth full of cock hhhmmmm….
He soon pulled out of my mouth and positioned himself underneath me, oh god, they were both going to fuck me. The guy in my arse was steadily stroking his cock in and out, mmmmhhh ohhhhhh god it felt SO good. I felt the second guy place the head of his cock at my pussy and slowly start to enter me. In one deep stroke he was in and I was full, full of two huge cocks. 'Fuck Me mmmmhhhhh fuck me' I pleaded 'Please fuck me HARD' mmmmhhhh…
They both began to move in perfect rhythm, pounding my two holes 'More, more hhhhmmm MORE' I begged 'please, fuck me harder' and they did, they fucked me harder than I'd ever been fucked in my life, 'oooohhhh god, I'm going to cum' mmmhhh I screamed, my arse clenched hard and my pussy gushed as I came hard over them both.
Both guys moaned and groaned as I came over their cocks, they both pulled out and ordered me to my knees. I sat between them while they stood either side of me, wanking their black cock girth. 'We're going to cum all over your face' said one guy 'Open your mouth' said the other. I closed my eyes, opened my mouth wide and felt hot cum spray my face and tongue, I swallowed what had landed in my mouth mmmhhhhh they tasted good.
As I sat there, naked, coated in their cum, I was already looking forward to my next night out.
Get filthy texts and pics from flirty party girls right now. They're just waiting for you to contact them!