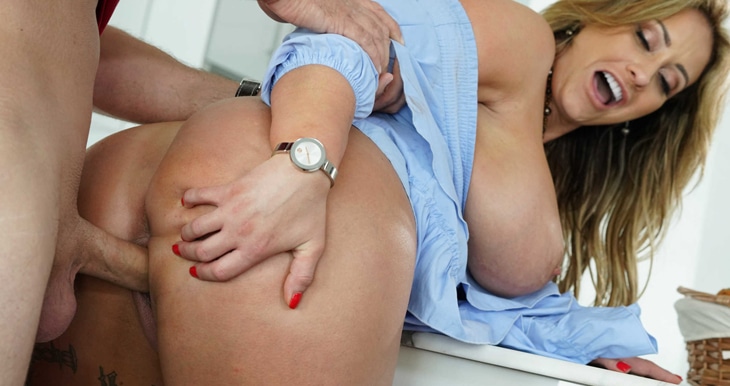 My son was on a break from uni and he brought a rugby mate of his home with him. A very handsome blonde-haired boy named Jack. That night I got up to get a glass of water. I was surprised to find Jack standing in the dim kitchen. I guess he was thirsty too. He was downing a glass of orange juice when I walked in. The light from the hallway was shining on his bare chest. I could see just how fit he was and my pussy started to stir. I couldn't take my eyes off of the young, hot specimen standing half-naked in my kitchen.
I startled him when he noticed me there. I apologised and told him I had only come to get some water. He smiled and told me I had nothing to apologise for, after all it was my kitchen. Although I couldn't see his eyes, I could feel them all over me. I realized I was just wearing a sheer nightgown that was probably completely see-through with me standing in the hallway light. I hadn't even thought to put on a robe.
Embarrassed, I put my hands over my bra-less breasts. I could feel my hard nipples poking my palms and the flush coming over me. I turned to walk away and he stopped me. "You didn't get your water", he said. He got a glass, poured some water and handed it to me but my hands were still stuck to my breasts. I didn't want to reach out for the glass but when I finally did he pulled it back, teasingly. I asked him what he was doing and he said, "trying to get you to drop the other hand".
I felt a jolt in my pussy when he said that and I let the other hand fall. He grabbed the hem of my gown and pulled me close to him. My whole body was trembling. He leaned down and kissed me and I could feel his hard cock graze against my stomach. I let out a grunt and whispered, "don't worry, I'll be quiet and quick".
I couldn't talk, so I just nodded my head. He turned me around and yanked on the top of my gown. My huge tits came spilling out and slapped against the kitchen table as he bent me over. He reached up and grabbed them in his hands and squeezed them hard. He asked if I knew how many times he had thought about my tits since he first saw me and before I could answer, not that even wanted me to, he slid his cock into me from behind. I was wet and ready and his thick cock slipped in easily.
The only thing harder than his cock was trying to not scream out as the waves of pleasures hit me. Each thrust of his young cock was ecstasy. I gripped the edge of the kitchen table and let him rock my pussy to the best orgasm I've ever had. He followed right after me and emptied his balls in my still-quivering pussy. We shared a few kisses then went our separate ways. And that was my first introduction to the cougar life.
Love Milfs? Want to hear cougar confessions 121 LIVE. Click HERE!